Supporting Canadian Aerospace
for More Than 37 Years
With a team of some 4,000 employees across Canada, Airbus is proud to be a key player in the Canadian aerospace community. More than 250 people support our Canadian helicopter customers directly, and Airbus Helicopters Canada was recently named as one of 'Canada's Top Employers' for new graduates by the 2021 Career Directory. We are proud of the nearly 40 years  we have spent supporting Canadian aerospace and stand ready to continue providing helicopters to carry out critical missions as one of Canada's leading helicopter suppliers.
Airbus supports more than 220 Canadian customers who operate 760+ Airbus helicopters across the country. As the leading supplier of helicopters to Canadian heroes saving lives and protecting communities, Airbus is proud to support leading Emergency Medical Services and Law Enforcement agencies including the Royal Canadian Mounted Police, Ontario Provincial Police, Edmonton Police Service, Winnipeg Police Service, STARS air ambulance and Phoenix Heli-Flight's HERO Program, to name a few.
Proven Economic Partner Supporting Canadian Aerospace
From its first helicopter manufacturing facility in 1984 to the production of A220 Family single-aisle aircraft since July 2018, Airbus has significantly increased its presence and is proud to be a leading member of Canada's aerospace industry. With locations in multiple Canadian cities, Airbus has robust industrial activity in Canada covering the commercial aircraft, helicopter, defence and space sectors.
Airbus has a proven record of delivering on its commitment to provide economic benefits to Canada. Today Airbus employs close to 4,000 people, creates 23,000+ indirectly-sustained jobs in aerospace, work with more than 665 suppliers in nine provinces, and sources $1.8 billion CAD from Canadian companies.
Airbus Helicopters' H135 is the proven best choice for the Future Aircrew Training Program (FAcT)
Airbus offers the platform best suited to deliver world-class rotary wing training for the next generation of Royal Canadian Air Force (RCAF) pilots. A full spectrum trainer, the H135 facilitates the development of core skills while providing twin-engines and advanced avionics similar to operational aircraft, allowing easy and safe pilot transition onto more complex helicopters in the RCAF's fleet.
With more than 408,000 flight hours in a dedicated military training role, the H135 is the global reference for basic ab-initio, advanced IFR and tactical training. The H135 is the trainer of choice of 12 Air Forces world-wide, including several of Canada's primary military allies such as Australia and the UK, which have very similar training philosophies to the RCAF.
Airbus' twin-engine H135 has been IFR certified for more than 20 years, and the aircraft is best suited to provide a low-risk, best-value training solution over the 20 year+ lifespan of the FAcT program. With twin engines and a modern cockpit, the H135 offers significant growth potential and the ability to future proof the FAcT program.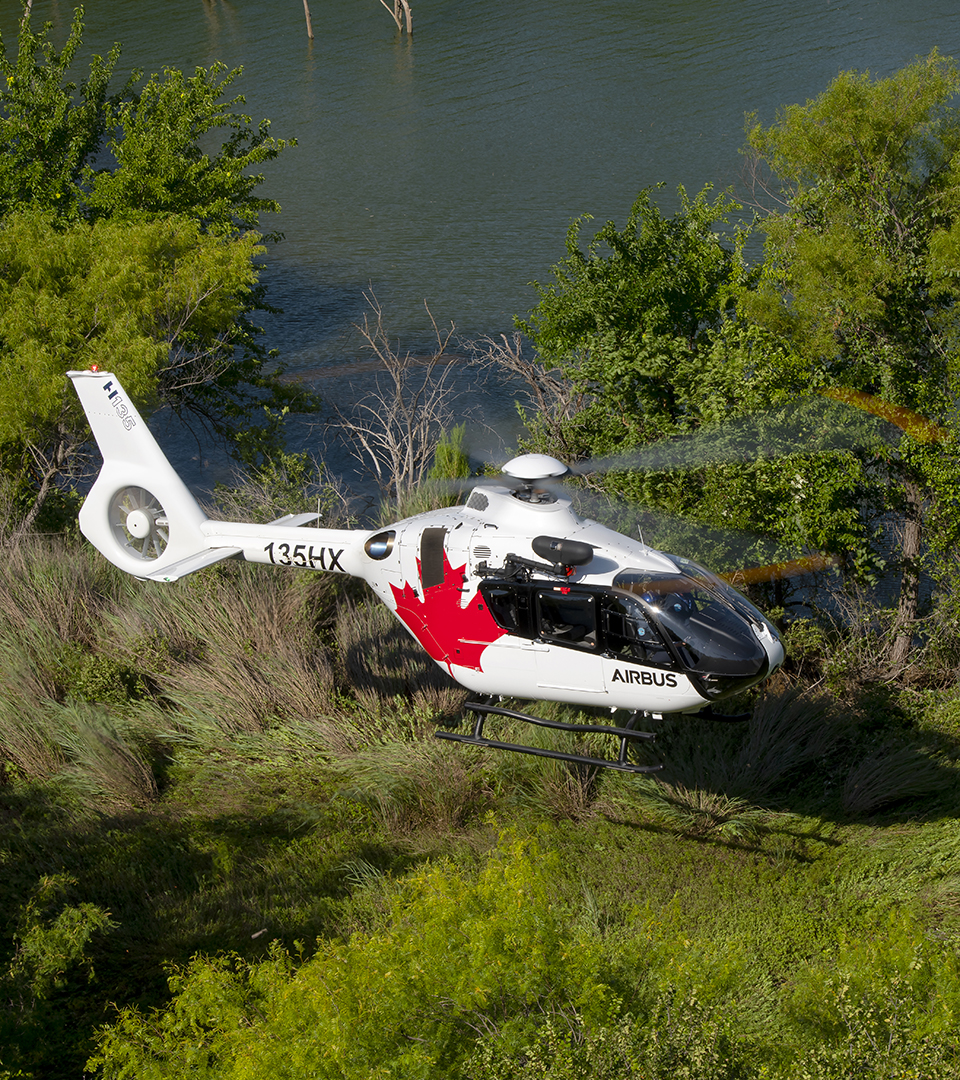 Law Enforcement's Preferred Platforms
Every single airborne law enforcement helicopter delivered in Canada for the past 15 years has been an Airbus helicopter, and 85% of the current in-service fleet flying today is an Airbus. From the Royal Canadian Mounted Police to the Calgary Police Service, Ontario Provincial Police, Edmonton Police Service and the Winnipeg Police Service, Airbus helicopter platforms help Canadian law enforcement teams better protect and serve the citizens who depend on them.
Global Excellence Locally Sourced
Headquartered in Fort Erie, our helicopter composite center of excellence employs some 250 aviation experts and is the sole source supplier of helicopter parts for 8 different Airbus helicopter platforms flying all over the world today. Additionally, our Repair & Overhaul department provides overhaul services and dynamic component repair to Airbus helicopter operators worldwide.
Airbus Helicopters By the Numbers: